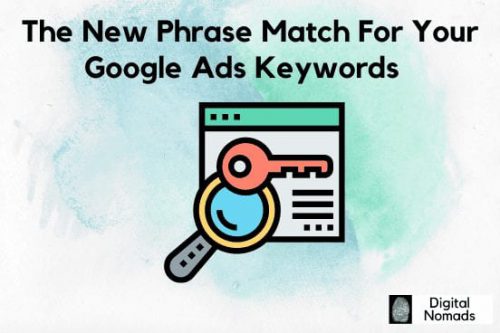 Introduction
Google Ads is all about reaching out an audience that is specifically looking for what you have to offer as a business. Right from finding options for "takeout restaurants" – a search that has grown over 5,000% in the past year or a search that is even new to Google (making up 15% of searches per day) – users hope to find products and services they need at the moment.
In all these years, Google has worked on the target knowledge so as to help make it simpler for businesses to connect with their clients. As a result of that the keywords in your content can now match to the meaning of what is being searched for. This is exactly why broad match is now a driving force to improving results, more so, when coupled with Smart Bidding. You can read more about broad match modifier and smart bidding in our blog.
As a result of this upgrade, the blend of phrase match and broad match modifier (both serving the same purpose) can play a huge role in helping you target the right audience.
Google is introducing variations in phrase match and broad match modifier to make it simpler for you to reach your target clients, irrespective of their search practices.
Simplifying match types
Currently, you can target customers with the following keyword matches:
 

Exact match for accuracy

 

Broad match for reach

 

Phrase match and broad match modifier to comprehend both
In order to improve your reach with better control, Google is blending the broad match modifier function with the phrase match one. With this change, phrase match will grow to include added traffic from broad match modifier without disrupting word order in the context of meaning. This will not only help reach your target audience, but also organize keywords in your account.
Through these developments, you can reach the searches you are interested in with phrase match without having to concentrate on searches you don't require. For example, imagine yourself to be a moving business looking to target people moving from New York City. In this scenario, the new phrase match will help you reach people planning to move from New York City to Boston, for instance, without showing up for Boston residents moving to New York City.
With this advancement, you not just save time, but also get to manage your keywords more efficiently. The reason why this combination simplifies account management is that both phrase match and broad match cover quite similar user cases in the current times. Ultimately, it helps you concentrate more on bigger business goals, such as helping clients find what they require to build their dream home.
Check out a few examples that show how matching style will evolve post this new update:
| | |
| --- | --- |
| Broad match modifier keyword | Queries that will no longer match after the update |
| +cv +skills | what are some professional skills to put on a cv |
| +best +t-shirts | best prices on t-shirts for toddler |
| +used +chairs | companies that sell used office chairs |
| | |
| --- | --- |
| Phrase match keyword | Queries that will match after the update |
| "holidays in Taiwan" | holiday spots in Taiwan |
| "long sleeve shirt" | long sleeve white shirt |
| "womens dresses" | new womens size XM dress  |
What's happening to the broad match modifier?
The support for broad match modifier will be gradually closed down. The ultimate aim is to minimize breakouts, as this new update is likely to affect different businesses in different ways. These changes will happen gradually.
The change of phrase match and broad match modifier keywords to a new matching behavior has begun in mid-February 2021. As a business, you will not be required to make any immediate changes in terms of migrating keywords as this change will be implemented on both match types. All you'll need to do is to keep your performance data intact.
It is in July 2021 that you'll no longer get to create new broad match modifier keywords, as by that time this new matching behavior will be fully implemented. Still, your already existing broad match modifier keywords will keep serving their purpose after this update. This is exactly why it is suggested to start working on building new keywords list with the upgrade in phrase match.
Setting up your campaigns for success
Take a look at these tips to help transition smoothly in context of these upcoming changes:
 

Analyze performance and reallocate budgets where required. This new update is likely to oscillate traffic, so make shifts as required.

 

Keep a persistent eye on your Recommendations page. "Add new keywords" comes handy to fix keyword coverage, and "Remove redundant keywords" helps you eliminate duplicate keywords.

 

Keep on using negative keywords. The new update will not affect your negative keywords. Hence, leave out matches you don't require using

negative keywords.
Additional keyword improvements
From last year onwards there has been a persistent effort to improve other match types as well. These improvements rely on feedbacks that are collected in order to help businesses achieve their target reach with relevant results.
To begin with, broad match now keeps in view additional signals in accounts to help provide searches that are much more relevant. These broad match come from landing pages, ad group keywords, etc, are combined with Smart bidding to help explore new growth prospects for your business.
Keyword match is now easier to be predicted as an exact match keyword that is exactly the same of a particular query is now always chosen as long as it's triggered by the specific match.
As a result, you don't only get better control over which keyword best matches a query,  you are also able to simplify your Google Ads account management.
Conclusion
This change simplifies the optimization process for your Google Ads campaigns making it easier for you to handle your keywords pool. It also makes it more simple the analysis of the search terms report which allows you to integrate new and negative keywords among the existing ones.
As a leading digital marketing agency in Hong Kong we help our clients to select the top performing keywords for their Google Ads campaigns reducing the cost per click through the right match selection and optimization process. If your keywords are too expensive and you haven't been able to see results from the PPC campaigns you are running, get in touch with us.